2018 Nissan 370Z Roadster OVERVIEW
2018 Nissan 370Z Roadster in Peoria
"It's Not A Car, It's An Experience" - nissanusa.com
Starting at :
$41,820
3.7-Liter DOHC 24-Valve V6 Aluminum-Alloy Engine
332 HP @ 7,000 rpm
Power-Assisted Brakes
MP3/WMA CD Playback Capability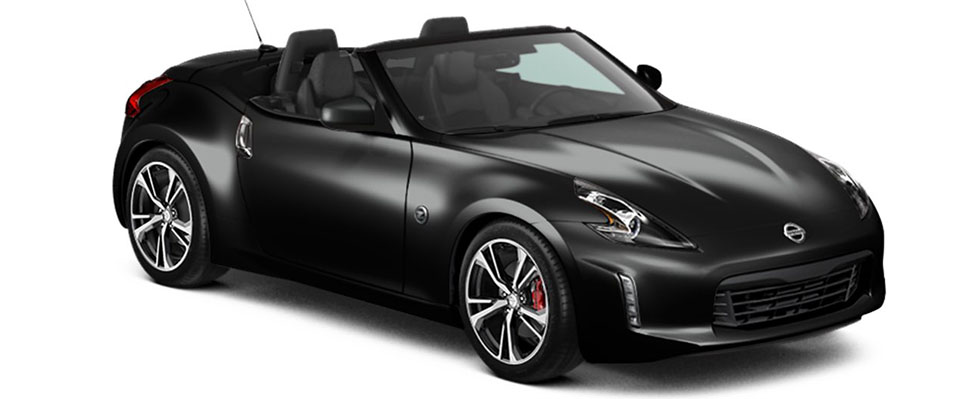 At Avondale Nissan, we give our customers a substantial experience in all aspects of their visit. With every Nissan, we know you're getting a great deal, and we've got numerous offers on the 2018 Nissan 370Z Roadster for our Peoria shoppers. It takes just a few extra minutes to get here, but it's worth the drive, we guarantee it.
Avondale Nissan dealership near Peoria is the only Nissan dealership in the valley with NO Dealer Add-ons and we're very proud of it. Not only do we have a huge selection of new, used and certified pre-owned Nissan's to choose from, but we will never show a higher price once at our dealership. Avondale Nissan's courteous sales staff will assist you in finding the right Nissan car, truck or SUV that improves your daily driving experience and way of life. We also carry a pristine used car inventory and impeccable certified pre-owned vehicles, of Nissan models and other top car brands. We invite you to browse our entire inventory lineup on our website, compare pricing, search specials, and then visit our dealership near Peoria. If you do not see what it is you are looking for, just let our Avondale Nissan sales staff know, and we will find it for you.
Nissan 370Z Roadster Dealer in Peoria
Nissan PERFORMANCE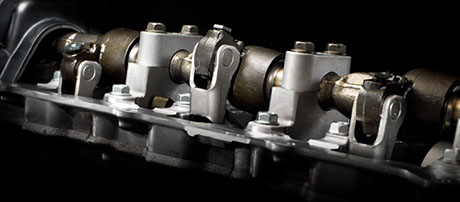 Continuously Variable Valve Timing Control System (CVTCS)
The 370Z features Continuously Variable Valve Timing Control System (CVTCS) with advanced Variable Valve Event and Lift (VVEL®) technology that continuously tunes valve lift and timing for quicker response and a broader torque curve.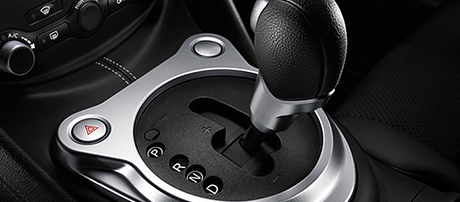 7-Speed Automatic Transmission With Downshift Rev Matching
Everything great about a manual – except the clutch pedal. Take the traffic-beating convenience of an automatic, factor in the power and flexibility of a manual, and you've got the 370Z 7-speed automatic transmission. Seven speeds give you a wide spread of gearing for both smooth acceleration and quiet highway cruising. With a choice of driver-selectable modes, you can custom-tailor your driving experience like never before. And with Downshift Rev Matching, you've got the kind of ultra-quick, seamless downshifts that no manual transmission can match. Except, of course, the 370Z SynchroRev Match® 6-speed manual
2018 370Z Roadster APPEARANCE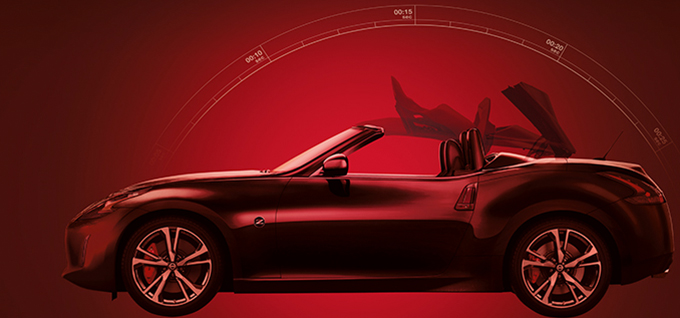 Power Convertible Soft-Top
With no latches to undo, the fully automatic convertible top peels away in just 20 seconds, and stores underneath its hard tonneau cover. With Nissan Intelligent Key in your pocket, the top can be activated from outside by pushing a button on the driver's door – a real plus on a hot day.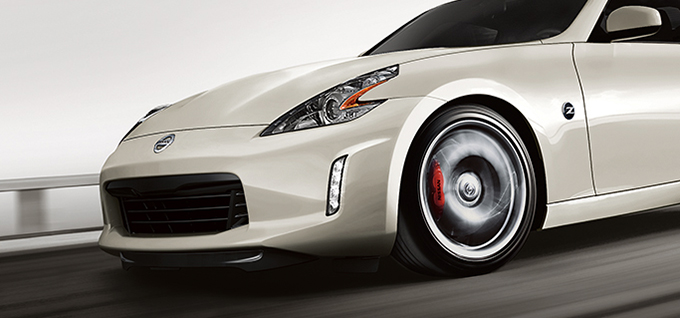 LED Daytime Running Lights
Make a visual statement with powerful LED Daytime Running Lights. High-intensity lights enhance the look of your 370Z and increase vehicle presence when the headlights are off.
Nissan 370Z Roadster COMFORT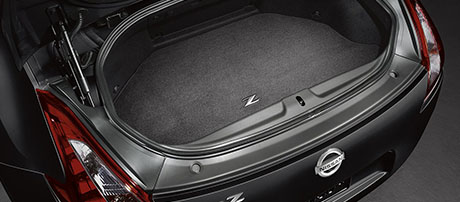 Storage For The Real World
The smartly designed convertible top allows for plenty of usable trunk space. Even with the top down, it will hold a couple of sets of golf clubs.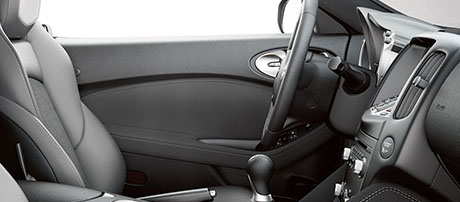 Driver-Obsessed Cockpit
The 370Z employs a three-layer design philosophy that makes you feel completely connected the instant you sit down.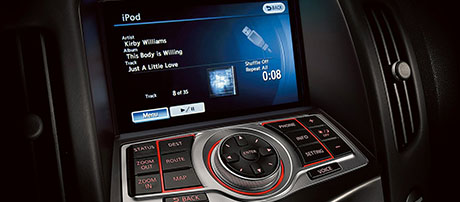 IPOD®Integration
Plug your iPod into the standard USB input and you can control its functions through the audio system or available touch-screen display, plus get digital song readouts. [*] You can also play digital music files from a USB flash drive or other compatible storage device – and even watch movies on the LCD screen while your 370Z is parked.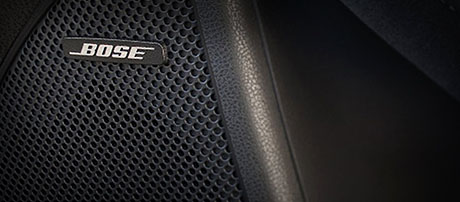 BOSE® Premium Audio System
Because even the most dedicated enthusiast might want to listen to something other than the power of the dual-exhaust, the 370Z features an available Bose® Premium Audio System that is custom-engineered for the unique shape of its interior. And since it's also capable of playing Bluetooth® audio and receiving SiriusXM® Satellite Radio, you can have the perfect soundtrack for any driving adventure.
2018 Nissan 370Z Roadster SAFETY & WARRANTY
Basic Warranty 36 month / 36,000 miles
Every Nissan is backed by a 36-month/36,000-mile limited vehicle coverage and a 5-year/60,000-mile limited powertrain coverage.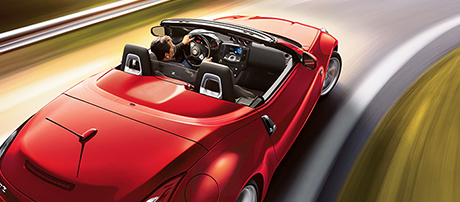 Traction Control System (TCS)
All the power in the world is useless if you can't get any grip. So when the Roadster's standard Traction Control System senses a front wheel spin, it responds by helping reduce throttle, which helps you both regain grip and maintain control of the road.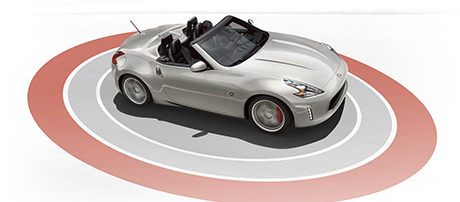 High-Perfomance Protection
Like every Nissan vehicle, the 370Z Roadster comes equipped with a suite of standard safety, driving, and convenience features designed to inspire confidence behind the wheel, and help make every ride better, safer, and more enjoyable.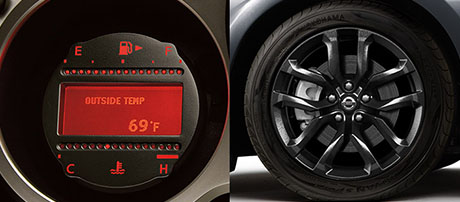 Tire Pressure Monitoring System (TPMS)
TPMS monitors tires for low inflation pressure, which can shorten tire life and reduce the load-carrying capabilities of the vehicle.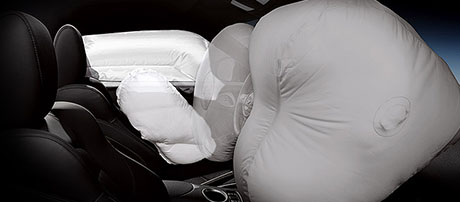 Driver and Passenger Side-Impact Air Bags
Active Head Restraints help reduce the chance of whiplash injuries by moving up and forward toward your head during certain rear end collisions.
Powered by the fourth-generation refined VQ37VHR V-6 Aluminum Alloy 3.7-Liter DOHC 24-Valve engine, the new 2018 Nissan 370Z Roadster develops a hefty 332-horsepower and 276 lb-ft of torque. Featuring sophisticated technology that continuously tunes valve lift and timing for substantially quicker acceleration and response time all the while producing a broader torque curve, optimized fuel efficiency is achieved. Performance excels with 18-inch black-finished aluminum alloy wheels and precise brake balance from the front and rear 12.6-inch rotors. A winning standout on the road for decades, the new 370Z Roadster awards the legendary Z's exhilarating experience and adds a revised rear fascia to include taillights, distinctive smoked chrome door handles, updated HID Xenon headlights, as well as a new advanced EXEDY clutch for the Z Roadster that is manually-equipped. Designed with a smooth sleek style of modern sophistication, the new 370Z Roadster means business inside as well. From the commanding view, the cockpit is race-inspired, driver-focused, and awards four vibrant color schemes to compliment 7 exterior color choices ranging from bold and dramatic to sexy. A timeless living legend, the 2018 Nissan 370Z Roadster makes a statement that is respectfully heard.
Our Avondale Nissan dealership is passionate about providing a positive dealership experience while giving you a great deal on the 2018 Nissan 370Z Roadster or any other Nissan model that you desire. Our friendly and knowledgeable sales staff are determined to help Nissan shoppers find the best car, truck or SUV that fits into their way of living. Whatever your automobile needs are, Avondale Nissan can assist you in achieving satisfying results that have you driving off our dealership lot happy and fulfilled in the Nissan of your dreams. Come on in from Peoria for a visit or test drive today, we look forward to meeting you!
2018 Nissan 370Z Roadster Offers Peoria